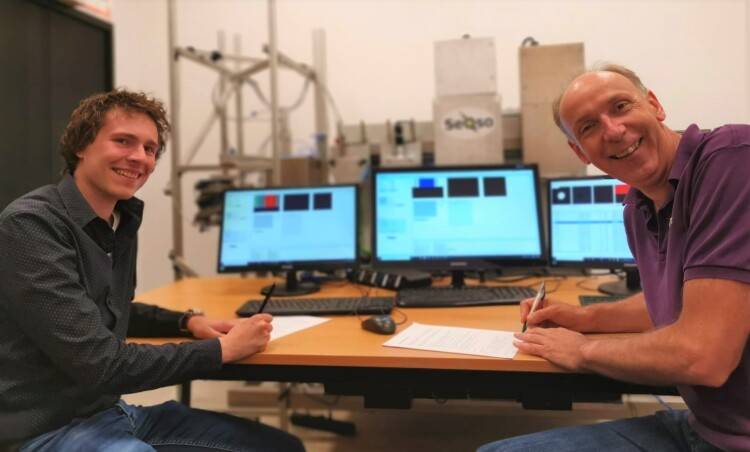 News
SeQso and Innoveins Seed Solutions enter into partnership to characterize seeds
Fred Hugen (director SeQso B.V.) and Niels Peeters (Director Innoveins Seed Solutions B.V.) sign the cooperation agreement and purchase contract for the use and further development of the iXeed DataCollector.


The iXeed DataCollector is a high-tech machine that can measure unique seed parameters through cameras that can be an indicator of seed quality. "Using this technology, the seed quality can be predicted befor the seed goes into the soil using X-ray, RGB, NIR/VIS hyperspectral and chlorophyll fluorescence imaging", says Niels Peeters (Innoveins Seed Solutions).
Both Fred Hugen and Niels Peeters indicate that the collaboration is strong due to the combination of technological knowledge with knowledge concerning plants or seeds and that they can offer customers full support in research processes on seed characterization. The project is partly funded by the province of Limburg.
SeQso
SeQso is a manufacturer of high-quality machines for sorting, sowing and analyzing seeds.

Innoveins Seed Solutions
Innoveins Seed Solutions is a company located in the province of Limburg that conducts research into seed treatments in agricultural and horticultural seeds on behalf of companies and multinationals in the crop protection and seed industry.

More information? Please contact Niels Peeters: niels.peeters@innoveinsseedsolutions.com